The brief
Creating a dynamic digital experience
The Public Broadcasting Service for Malta commissioned Keen's web design and development team to overhaul their news portal with core focus on modern technology and user-experience whilst adhering to the given corporate guidelines and responsibilities. Furthermore the dynamic team at PBS wished to craft a custom Mobile App to deliver news and streaming services for it's loyal followership on the go. Their multifunctional and multi-lingual digital hub demanded a high level of custom features and user-focus besides being well optimised for mobile use. It has evolved to become as vital to programme-makers working with PBS as it is for their journalists and their actual target audience. An easy-to-use, secure and flexible content management system should allow involved stakeholders to populate content, application processes and adverts as well as to analyse data for strategic decision taking. Furthermore our team had to integrate a range of third party sources to populate real-time data such as weather forecasts, besides empowering user-generated content uploads. We surely needed to gear up for shifting towards data-based custom content provision for users all around interests, preferences and user behaviour, eventually making the digital experience a uniquely personalised one.
The challenge
A solid adaptable Foundation that delivers
We needed a robust, secure but adaptable structure that would be capable of hosting data and videos withstanding sudden high volumes of traffic and evolve as time goes on. The news portal alike the App had to perform well for local users alike for the great number of Maltese living abroad. The digital hub required extensive technical knowledge far beyond standards website functionalities and attention to detail when getting to the integration of the individual components and versatile resources. The site is subject to constant change, progressing, modified, added to and enhanced based on user-data and technology advances. The responsibility as Public Broadcasting Service demands a 24/7 technical support system to assure an uninterrupted service besides constant monitoring, analysis, maintenance and enhancements to cater for upcoming requirements and add further value to the brand.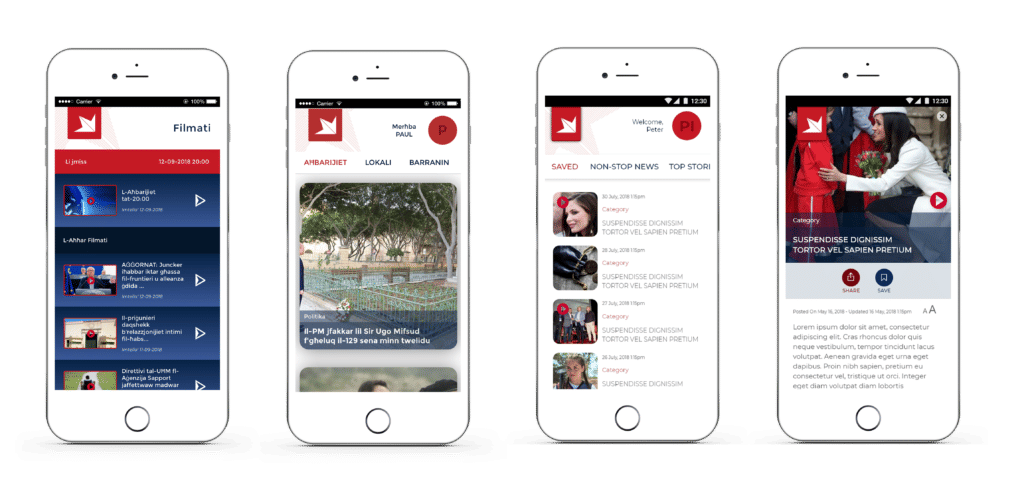 The strategy
Thorough research & planning on Air!
Our technical experts and project management team started mapping out a clear project process following the initial brief conclusion. All stakeholders had clear milestones set to get started on the individual phases of the digital advancement project ahead. Comprehensive research, planning and technical testing substantiated a full detailed technical spec document that assured all stakeholders were on the same page before heading into UI Design and Development of the Website and App framework. We assured to allow enough time for comprehensive beta-testing on the website and app solution before heading to the market to collect valuable user-data for further enhancements.
STEP 01
And Action!
We immersed ourselves in extensive research, analysis of all requirements and a detailed planning process to output a comprehensive technical spec document including wireframes with the user journey before heading towards the design phase.
STEP 02
A captivating news portal.
Our team cocooned in the development of the holistic backend and frontend system, versatile integration and extensive quality assurance process before arranging the soft launch of the new website.
Data insights on user behaviour and trends allowed enhancements before moving into the app production.
STEP 03
In the know News on the go!
Our team of marketers, designers and technical experts had a substantiated base of knowledge and requirements to start planning out the Mobile App, built on the foundation of the website. Following its own process from account set up on the App platforms, planning, UX and UI design, over development and quality assistance, up to beta-testing and soft launch, the TVMi App evolved with data insights and time.
The Execution
Steering to new heights
The broad preparation and planning phase paid out by ensuring a smooth project flow throughout the design and delivery phases for both the website and the mobile app. The app offers similar services and functionalities as the web portal however it was eyed for users on the go extending the factor of convenience and customisation such as mobile notifications. The gathered user data empowered our technical experts to serve users better, exploit content opportunities, trends and drive a competitive edge in the market whilst overcoming possible challenges to remain at the top of the game.
163K
unique daily page views
The result
In the Spotlight
The successful project implementation and ongoing collaboration protrudes with seeking to maximise the user-experience, introducing raising technology, providing frameworks for upcoming initiatives and upgrading to more time- and cost efficient solutions. Crafting digital solutions that empower the team of PBS to deliver on their responsibilities hassle free, grow and monetise their traffic whilst uplifting the brand perception, ultimately pictures a great future outlook.
Testimonial
WHAT OUR CLIENTS HAVE TO SAY
Keen have been entrusted with the web development and maintenance by the Public Broadcasting Services (Television Malta) for the last 6 years. They did a great job and are always hands on with maintenance and improvements to help us provide a better service to our followers.
RODIANNE CALIGARI, PBS
More from us
RELATED CASE STUDIES