SEO Case Study 13,400 more organic visitors in 11 Months
In this case study, we are going to outline the step by step process we used to successfully build up organic traffic for a multi lingual website.
Conversion

1.83% TO 3.51%

Leads

+ 204 %

New visitors

+ 63 %

Oganic traffic

+ 139 %
From 14,520 website visitors...
To 23,684 new website visitors...
Worldwide increase in website visitors, better rankings, more leads, more revenue...
A little background, before diving into the numbers
The client's business was established in 1993, they are a leading diving center in the country. Atlantis approached Keen in September 2016 to re-design the whole website, making it multilingual (more on that later) and adding new content.
The owners have invested heavily in top notch diving equipment and on the website re-design, however, they were not getting a lot of visitors on their site.
They knew they had a great product, and were looking for ways to get in front of more prospects and grow their business. But how do you drive more visitors to an already established business? With a digital marketing campaign, and SEO, of course!
And our SEO strategy led to this…..

A 139% increase in organic traffic
from more than 10 countries.
Why organic search traffic matters?
Search engines, particularly Google continues to play a major role in the distribution of internet users. People are spending their time on google more than ever before. These statistics show Google's search growth and domination in web traffic. More than 62% of online activity is on Google, second is Facebook with 5.9%... see the SEO potential there?
Being on the first page of Google is extremely important because it puts your business in front of new customers. If you had to choose between the main street of a town or a side street that gets almost no traffic, which one would you choose??
Without further ado, let's dive right into the details of the SEO campaign

Step #1
Keyword Research
and Competitive Analysis


Keyword research is probably not the sexiest SEO task, but it is the foundation of every good SEO strategy.
Finding the right buyer intent keywords can benefit a business immensely.
Here, we also find out the search terms people are typing into Google to find our competitors websites
Finding the right keywords
We headed over to Semrush and reverse engineered the top five competitors. Now, as we mentioned earlier, our client's site is multilingual, targeting 5 different markets, namely; Italy, France, Germany, Poland, and English speaking countries like the UK and US.
Here, we reverse engineer the top five competitor's websites homepage, and also the inner pages, to extract data for each language.
                                         A sample of keyword research in the German Market:                                                
A sample of keyword research in the French Market:
We then jumped on to Ahrefs and did the same exact process:
Why did we use both tools?
Ahrefs and Semrush are both great SEO tools. And a combination of the two gives us the best possible results combined with the Google Keyword Tool. The latter is more accurate when it comes to search volume. The Google Keyword Tool is also good for finding close variations of our main keywords.
BUT, the tool has one big problem, it shows the exact same keywords to everyone, including our competitors.
The solution to finding even more keywords?
The Google searches related to at the bottom of the page….
That little area there is a gold mine for keyword digging!
We wanted to take keyword research a step further with Google autosuggest. When you start typing a searchphrase into the google search bar, you notice that Google gives you a list of other closely related phrases,that people are also looking for.
Google suggest is very useful to uncover keywords that tools like Semrush,
Ahrefs and google keyword tools might not show us. However there's
a problem with this method, it's very time consuming.
To accelerate the process, we use two tools called Keyword Tool Dominator…
And the 2nd one we use, a free tool called Ubersuggest, is where we download all
the keywords and add them to our master list.
The Final Step; finding search volumes for these keywords using the google keyword tool. When it comes to search volumes, we tried a dozen or so keyword tools in the past. We found that Google keyword tools is the closest we can get to average monthly search volumes for each search term.
"Businesses who are investing in online marketing will be in a
better position to maintain their business through longevity."
Step #2
Level Up Your Site!
The importance of a website
audit for SEO success
We perform an indepth website audit on all our client's websites.
A website audit is a full analysis of everything related to the client's website. We use a tool called website auditor to dig deeper through the entire site, just like search engine bots crawl the entire site.
At the website audit stage, we review over 20 different on page ranking factors including:
Fixing broken links
Improving the website structure,
Optimizing the website content,
Improving website speed
Indexation Management – improving or deleting any pages which have little to no value for visitors or which have been deindexed by Google due to low quality score.
We are going to list the main website issues we found in this technical site audit and
how we were able to fix them.
Let's start with the simple issues, then move to the more complicated warnings.
Broken links
These are usually easy to fix. A broken link is an anchor text or image link which takes the user to a 404 page. That indicates that the visitor was not able to visit the destination page or post.
The client had links pointing to a pricing PDF's document in five different languages, on more than 50 pages on the website. The problem with PDF links is that once you update the PDF the document URL changes and all the links will be broken. For every problem there is a solution
Paul, our talented web development manager created a rule inside  WordPress to redirect all the pdf anchor text links, to the respective /diving-pricelist/ at language page level. The price list pages can now be updated at any time without having to change the URL.
Improving the website structure
Website structure is a very important part of an SEO strategy. Website structures are sometimes overrated by SEO's.  The better your website structure the better chances of higher rankings in search engines. But there is more…. Fewer resources are required to rank internal pages (link building cost money). We tested different website structures and found that the closest a page is to the root domain, the easier it is to rank on the first page of google.
BEFORE https://www.atlantisgozo.com/gozo/diving/dive-sites
We found that flat URL's (the AFTER url) work better in search engines, and we have more control over the words we can include in the page URL.  We use a free plugin called custom permalinks to change a deep URL structure, and remove the category/sub category pages from that URL.  Easy of navigation and discovery UX (user experience) is very important for our ultimate goal; leads and sales. On atlantis.com we kept the main menu very simple and easy to understand, focusing on the main areas of business.
Optimizing the website content
Content is King! Content is what ranks a website and what converts a visitor into a
warm lead and eventually a customer.
Content drives traffic to a website and builds a brand's audience.  Writing incredible copy that is
optimized for SEO and at the same time converts like a champ, is crucial
Here are some strategies we used:
Original content
Original does not only mean unique well written content but coming up with original ideas. Our in-house writers have the skills and creativity to create awesome copy.
Provide accurate information the visitor
is looking for
When people visit a website they expect to find the right information in an organized, simple to understand format and it is our job to deliver that information. We added video embeds, images, price lists and information about every single diving course available. We ask all our clients to fill out our intake form which gives us the necessary information to better understand the client's business and their customers. The next step would be to make a brief, to-the-point list of possible answers and information people are looking for.
Content updates
Out of date content does more harm than good. We keep in touch with our customers regularly and update any outdated content like pricing, change of terms and conditions, change in regulations, legislations etc.
Focus on creating strong headlines.
H Tags are not just an SEO keyword tool (mentioning the main keywords in the H tags helps the search engine understand what your page is about) but they also help the reader scan through the page quickly without having to read all the content. People these days have very low attention spans; they don't just want the answers – they want them fast. We make our content actionable, focusing on calls to action.
Improving the website upload speed
If we go back to the website auditor report, you can see that there are nine pages that are too big.
There are tools out there to measure the performance of your website and give optimization suggestions. We use the Mighty Google! They have a tool called Test My Site With Google.
Here's what we did to improve the speed of the website to an excellent score:
Compress images.
Caching – We use several layers of caching, both server side and client side and on top of that, there is also a server used only for caching!
Fixed long redirect chains (a series of redirects that go from one URL to the other forcing search engines to wait until there are no more redirects)
Host the website on Cloudways, our go-to hosting service.
Indexation Management
If you are a technical SEO reading this, you probably know that Google Webmasters "Index Status" tool gives us superficial information. It seems that there is a common misunderstanding about how Google indexation actually works. Google does NOT index everything it knows about. Why?? For a few different reasons, the major one being, Google too has a crawl and indexation budget, and they tend to de-index low-quality pages.
Here's how we run an indexation audit.
STEP ONE
We use the search operator site:yourwebsite.com to find
indexed pages in the actual Google Search itself.
Here's what Google gives us:
We got 2,140 pages indexed. There is a quick way, to find exactly which pages are indexed and which are de-indexed, but more on that in a bit.
STEP TWO
Let's go to webmaster tools now. Here we can see that there
are over 3000 URL's indexed; these are crawlable pages.
STEP THREE
Removing low value, de-indexed content. Remember, earlier we mentioned that there was a quick way to find de-indexed pages. We use an amazing, free tool from Greenlanemarketing, the Google Indexation Tester. We grab all the URL's from the website auditor tool and drop them into the Google indexation tester tool. We decided to remove some low-quality pages and improve others which were going to add value to the website and drive more traffic.
Deleting a page or adding a noindex tag to the page does not necessarily mean the page will be immediately removed from Google's index. Google regularly crawls the website to rebuild the index, but to accelerate the process, we use Google's URL Removal tool.
If you want to increase search engine traffic to your website, we can help. Let's chat.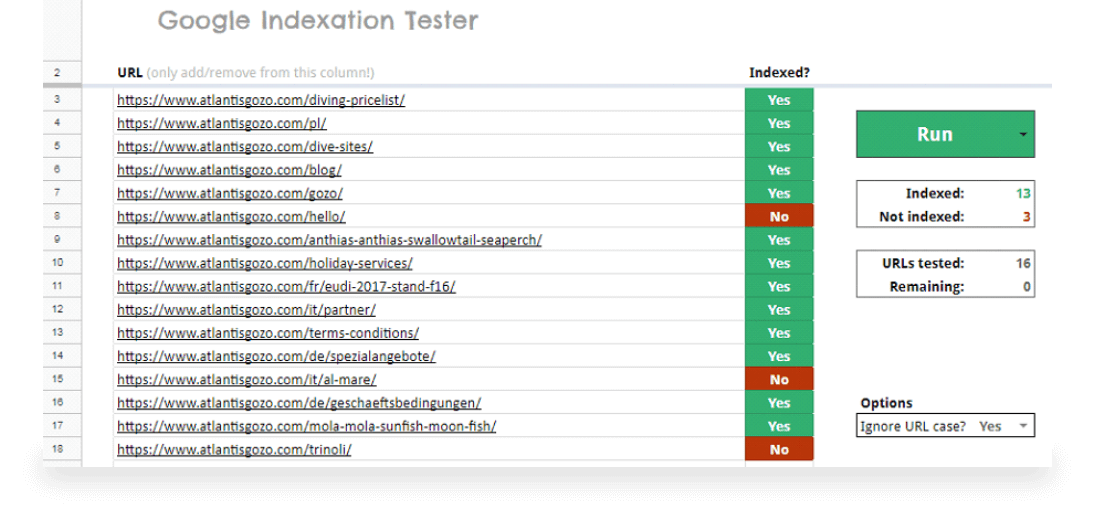 Schedule your 15-minute consultation call Today. 
Step #3
On Page
Optimization
On-Page SEO is probably one of the most underrated ranking techniques. For many Search Engine Optimization professionals, placing the main keywords in the title, description content, and H tags is all there is to on page SEO.
But is that really all? Of course not.
Here is a list of elements we focused on:
Searcher Intent
Optimizing Titles and Descriptions.
Content Optimization
Internal Linking
Optimizing Image Alt Tags
Copywriting
Duplicate Content Issues
1. Optimizing for search intent
This is the future of SEO. Search engines in recent years have optimized their algorithm around a user's experience and their needs. At the end of the day, Google makes a ton of money from search display ads, better known as PPC (pay per click) ads or Adwords. And their ultimate goal is to deliver the best results, to the end user and satisfy their query to get people addicted and keep them coming back.
Going back a few years ago, SEO's could easily manipulate search results and rank for high volume search terms with irrelevant and low-quality content. Modern-day Search engines have made huge progress and are powered by behavior learning.
So, how do we understand user intent and how do we know what type of engaging content to write?
Google gives us all the answers we are looking for with regards to user intent.
We start by searching on forums, blogs, and niche related sites to find out the customer's pain points;
What products or services they are looking for?
What type of solutions do they dislike and will never use?
What gets them excited?
What type of information they are looking for (questions they ask online)?
Now that we have created a customer persona we can type in a few search queries into Google. For example, if we type in "How to learn scuba diving", it becomes very clear that the purpose behind this search is to provide information and actionable tips on how to learn to scuba dive.
It's going to be almost impossible to rank for this search term with a services promotion page (we still mention our services and link to the service pages from within that article) The user is not looking for a service yet, but for specific information. Machine learning is at the core of Google's algorithm now. We can now schedule content that satisfies the search query which brings us closer to the leads and sales.
Yes, that's correct, some of our client's customers are first time divers, and they begin their journey by asking a few questions before they feel confident that they are ready to book a diving holiday. So understanding the purpose of each search is extremely important. And making an effort to be in front of the prospect is equally important.
We then push these relevant pieces of content to the first page of Google using our search engine optimization techniques. Understanding the purpose behind each search query is extremely important.
For some searches, we might find videos listed on the first page of Google, so we optimize our videos around the search phrase as well, to capture a nice percentage of that search traffic. More on that in a bit
2. Optimizing the meta title and description of each page.
We have Yoast SEO plugin installed on the website and any changes were done from Yoast. Writing the main keyword in the title is very important. The secondary keyword should be mentioned in the description.
3. Content Optimization.
We have spent years figuring out what Google ACTUALLY looks for i.e the real ranking factors that determine which web pages should rank first. Search engines (especially Google) keeps getting better and better at showing helpful search results that people are actually looking for. Manipulating search engines with irrelevant content has become a thing of the past.
User Experience Optimzation (UEO) and User Intent Optimization (UIO) is now at the core of how we optimize content. We optimize the content for the main keywords, semantically related keywords (secondary keywords with lower search volume) and TF IDF keywords. We use the website auditor tool to run a term frequency-inverse document frequency (TF IDF). The TF IDF is a technical content audit we do on important pages to find any deficits compared to the top 10 ranking websites for those search terms. Why emulate the top 10 websites? For the simple reason that those websites already have the "approval from Google" to be on page one…. success leaves clues.
Our goal is to drive as much traffic as possible from different online properties not just the client's website. Did you
know that YouTube (a search engine in itself) distributes more than three times as many searches than Facebook? Optimizing videos for YouTube is not rocket science.
We optimize the title and description for specific search phrases people are typing into Google, mixing copywriting techniques to increase the click-through rate. We Included a link to the client's website in the description. Obtaining a link from Youtube, a DA (domain authority) of 100 helps with organic rankings but also drives visitors to our client's website. People might be interested to learn more about what they saw in the video. That's all!
Contact us for a FREE consultation and an SEO roadmap
for your brand.
4. Internal linking.
Here's a great piece of helpful content; https://www.atlantisgozo.com/gozo/things-to-do/. These articles provide value to the visitor but serve also as a resource page when we are doing link building outreach campaigns. We use our proprietary anchor text link distribution method (our secret sauce!) to power up money pages via internal linking.
5. Optimizing image alt tags.
Why is this important you might ask? While it has very little impact on organic rankings of the website itself, Google images is still a huge driver of traffic as you can see from the data below…
Google images also rank in the organic listings for certain keywords. In fact, we have landed a few image rankings Now traffic is a ranking factor, the more the merrier. We try to capture as much relevant traffic as possible. We are also getting some leads from these images!!
6. Copywriting
Copywriting is one of the most essential elements of marketing and conversion. Without great copy, the return on investment from SEO efforts or any other marketing efforts will be somehow disappointing. We have to also keep in mind that people don't like to be sold, so our aim is to help the audience understand our client's brand and their services.
We made some changes to the headings, titles, descriptions, content, images, and also embedded videos. As a result of these changes, the average time on site has increased by over half a minute. Might not sound like a huge improvement, but when spread over twenty-five thousand visitors every year, it makes a huge difference 
We gave visitors a reason to listen to us, improving
engagement and leads conversion rate by 204%
7. Duplicate content issues.
The client had a few pages optimized for the same keywords. We applied 301 redirects to most of them to avoid keyword cannibalization.
Duplicate content can be a real pain for larger sites like e-commerce but can hinder rankings even on small local business websites. The problem is having the same content (or very similar) on multiple pages, optimized for the same set of keywords will confuse Google as to which page should rank for a set of keywords. And Google algorithm might decide to rank neither of those pages, irrespective of whether those pages have enough power and relevance to rank on the first page. In technical terms, this is called "Keyword Cannibalization". During the website audit stage, we identified pages that had duplicate titles, descriptions, and most importantly, duplicate content.
Solution…
There are a few quick fixes we do, on a case by case basis….
301 Redirects
Use canonical tags in cases where the pages are deemed to be functionally important to the visitor
Tweak the page and optimize it for semantically related keywords
NOTE 1: DO NOT just delete a page or post without a 301 redirecting it. This will avoid 404 errors, broken links, and a loss of traffic, which can result in a sudden drop in rankings.
NOTE 2: DO NOT stuff keywords into your content. Mentioning your main keywords once or twice is enough. Keep it natural and remember content is written first and foremost for humans.
Step #4
Link Building


Link Building still remains one of the major ranking factors. We have a lot of proprietary data that can prove this. Don't just take our word for it. According to this case study by Semrush, total referring domains is one of the top five ranking factors. All things being equal, link building remains the go-to strategy for dominating your competitors.
Want to read more about how we get our famous traffic spikes with link Building? Here's our step by step link building campaign
Competition Analysis
Citation audit and creation
Infographic creation and submission
Monthly travel & lifestyle blog outreach campaign
2nd tier link building.
We compared the client's website side by side with the top six competitor's site to find out what they have been doing in terms of SEO, especially link building and the size of their website, how much traffic are they getting, the best-performing pages, and any running paid Google ads campaign.  We use Semrush competitor research to find the best performing competitor's pages
We use our own proprietary sheet (below) to do a side by side comparison. This gives us a clear picture of how our client's website is faring compared to the top competitors at the time of onboarding. We identify the client's online presence strength and shortcomings and create a plan of action to do better than what our competitors are doing and, ultimately, capture a larger percentage of the market share.
Citation audit and creation;
These are basically directory listings, those that you find on Yellow Pages for example. We use a few tools like Whitespark and Brightlocal to find any citations that were created in the past, either by previous SEO agencies or by the clients themselves.
Why is the citation audit important? Having the brand name, address and phone number mentioned in authoritative business directories online help with Local Map Rankings. Maps drive a ton of traffic to websites and generate a lot of calls as well. When we onboard clients, one of the first steps would be to do a GMB (Google My Business) review and make sure the NAP (name, address, and phone number) are consistent across all online properties, including the client's site.
After the audit and cleanup (we fix any inconsistencies in the NAP of existing listings), then we go ahead and create the top 50 citations.  There's a lot of directories out there which are very low quality and having a listing on them can do more harm than good.
Infographic creation and submission;
Infographics are attractive and attention-grabbing because they are very visual. As we mentioned earlier, people's attention spans are diminishing over time and displaying a bunch of data in an easy to understand, visual graphic will help the visitor's brain process content much faster. We don't stop there. We distribute the infographic on the best infographic website on the internet. This helps drive traffic to the client's website and is also part of our link building strategy.
Monthly Outreach campaign;
White hat link building is still a large part of what we do to help clients drive more traffic to their business website.  Over the span of 11 months, we contacted over 1,100 websites in the travel and lifestyle vertical and published over 100 awesome articles all over the internet in four different languages: German, Italian, French, and English.
German
French
English
Italian
We check the metrics of each and every website before sending our content to them, making sure that the website is healthy, gets traffic and most importantly, does not have any penalties. Linking from bad websites will harm the rankings and the overall authority of a website.
Tiered linking has been around for many years.  Basically, we build links to pages that link to our client's website.  Unfortunately, to this day, many SEO's try to manipulate search engines with spammy, low-quality 2nd tier link building and end up damaging their tier 1 quality links. Google and other search engines have evolved, and we have seen at least 12 major algorithm updates in the past three years with Panda, Penguin, Hummingbird, Phantom quality update & the knowledge graph being the major updates. Google now goes deeper, crawls every link and gives it a quality and relevance score.  Every new page on a website starts with a PA (page authority of 0). Let's take a look at one of the guest posts linking to our client's website in MOZ site explorer, before and after…
Here, we have increased the PA from 1 to 17 with just one link. Link juice from this page will be transferred to the client's site.  What kind of links do we use for our 2
nd
tier link building? Well, like that secret grandma's recipe at the established, old, successful restaurant, that's one SEO recipe we cannot reveal. This gives us a competitive advantage over our competitors 😉
A side note here that we wanted to add is the hreflang attribute and international targeting in google webmaster tools. An Hreflang is a piece of code that allows search engines to better understand the relationship between pages, specific languages, and locations for multi-language sites.
We set our Hreflang to show that our content is in five different languages targeting four specific countries. Here's a print screen of the code we use:
Wait there is more!
We submitted every country target page into webmaster tools and set
international targeting for each one of the languages.
At Keen, we are very proud of the results we achieve every day for our clients. We are very passionate about helping clients grow their business with Search Engine Optimization and other
digital marketing channels.
We help them grow their business beyond anything they could ever imagine. We are very grateful to our great clients for the trust they place in us.
And here is the end result. First page rankings for 40+ competitive buyer intent search terms. 
Increase in visitors from the US #moreclients #betterbusiness #moreprofits #lifeisgood
Some people hate change, but for us, change is what causes growth.
We are always on top of our game. We embrace it and enjoy the ride!!
Are you ready to enjoy the ride with us @keen??
To learn more about our proven search engine optimization system, get in touch!
We will be happy to chat.
Step #5
Content Promotion
Content promotion is something we have been focusing on more and more lately. Basically, we share, across different online platforms, most of the content we develop and publish. Creating great, in-depth content costs money, and in order to get the maximum return on investment, we truly believe that content promotion efforts (getting the word out) should be a strategy every marketing agency should implement.
In this section we are going to talk about:
Q&A Platforms
Influencer outreach
Press Releases
Have you ever heard of Quora and Reddit? These are Q&A platforms where people go to ask for advice about every topic you could think of.  Is it worth our time to go answer a few questions and promote your content?   The answer is yes because these websites have millions of followers and visitors (74 Million monthly, according to Ahrefs)
Q&A marketing is very simple. You just create a profile and start answering people's questions about the topic of your choice. We always leave a link to our client's website or to a guest post we published. The link is a No Follow link, so it's not very helpful for organic rankings, but it passes on relevance and drives visitors to our client's website.
Another Q&A platform that we use to promote our content is answers.yahoo.com
Influencer outreach is extremely effective for brand awareness. How does one find influencers with a large number of followers? We use specific hashtags to find bloggers in the client's industry and send them a friendly email to connect and let them know about our great content.
Bloggers LOVE to share great content on their social media accounts, especially if the content is newsworthy.
Bill Gates once said: "If I was down to my last dollar, I'd spend it on public relations". Press releases have huge viewership and customer base. We use a service called Pr Newswire to submit our press release to over 300 news websites.   In the old days of SEO, the press release strategy was a popular link building method. Google has since explicitly said that press releases will not help with rankings.
The concept behind a press release is to share newsworthy content for online exposure.  Most of our press releases get indexed by Google News and syndicated to websites like FOX news, CNBC news, Daily Herald, and more.
Step #6
Keyword Discovery

The more traffic the better. And we make sure not to let any important search phrases (low hanging fruits) slip away. Every three months during the SEO campaign, we perform keyword research again, but this time from a different perspective.
We log into webmaster tools search analytics and extract keyword data.
Once the client's website starts to gain trust and authority and momentum starts building up, the website rankings improve for more search phrases than ever before. This leads us to discover new keywords that we might not have found before.
We also use other tools like Semrush and Ahrefs…
The final step would be to optimize the content for searcher intent and include those new discovered search terms.
Or, create a new page to legally steal web traffic from competitors!
Are you struggling to get new customers and paying business overheads?
Do you have a marketing plan for 2018 and beyond?
Do you know which form of advertising is getting you the best returns?
Contact us today for a FREE consultation
Data and reporting can be overwhelming. We send easy-to-understand weekly reports to every client making it easy for them to understand the return on their investment and month over month growth.
Our reports include:
Keyword rank tracking, Google data studio, Conversion reports, Return on advertising spent, Traffic and Keyword Growth, Lead/Sales source report, access to our Project Management
so you can log in at any time and check progress.
Why Digital Marketing Matters?
There is nothing more powerful than having your business website in front of people looking for your products and services on their mobile phone. And here's why digital marketing exposure matters to your business…
Businesses who are not investing in a long-term strategy of online exposure through search engines will continue to bleed out profits.  And competitors who are spending their marketing budgets wisely will continue to become bigger and stronger.
Why Work With Us @Keen?
634 websites use our proven digital marketing services to grow their business.
1,678 keywords ranked on the first page of Google and growing every single day.
10+ years of experience in digital marketing.
Transparency – Get in touch to see our ROI keyword calculator $$$
A system in place that delivers results time and time again
Results don't lie 🙂
Ready to take your business to the next level?
Get in touch with us today for a FREE consultation!